Little Princess Trust News
Anna's pride with new look
Mum can't believe speed and ease of Little Princess Trust's super service
Anna Spiller just cannot stop looking in the mirror after receiving her wig from The Little Princess Trust.
The 10-year-old from West Wales is now full of pride and confidence in her new look following a fitting and styling at one of the salons in the LPT network.
Anna began losing her hair in 2018 before she was diagnosed with Alopecia this year. She went on to lose all her hair so her mother Claire got in touch with the charity's wig referral team.
As well as providing wigs to people up to the age of 24 who have lost cancer, The Little Princess Trust also helps youngsters suffering hair loss from other conditions such as Alopecia.
Claire knew of the Little Princess Trust through Anna's friends but admitted she had no idea how easy it would be to get a free real hair wig.
"I thought I'd have to jump through hoops," she said. "But the process was quick and simple and we were referred to a salon within a couple of days."
Anna was in the seat at Alive and Klippin' in Pontardawe within 10 days of her mum's first email to have her new wig fitted. Claire said she "looks and feels incredible!"
"She's really happy with it and feels like herself again when she puts it on," Claire added.
"She keeps dressing up in her favourite pretty dresses and putting it on and looking in the mirror. Her face is filled with happiness and pride ­– it's lovely to see."
Claire praised Anna's fellow pupils at New Quay Primary School who have all been supportive and understanding of her daughter's situation.
Teachers have also helped explain the condition as mum and daughter decided on an honest and upfront approach from the start.
Anna spoke to each class at her school with the support of her teacher and answered children's questions.
And when she had the wig fitted she got a great reaction with many pupils struggling to believe it wasn't her own hair.
Claire said the whole experience with the Little Princess Trust was amazing and was so grateful that she donated her own hair to the charity.
"If my hair can help put a smile on a girl's face like I saw on my daughter's then it's well worth it," she said.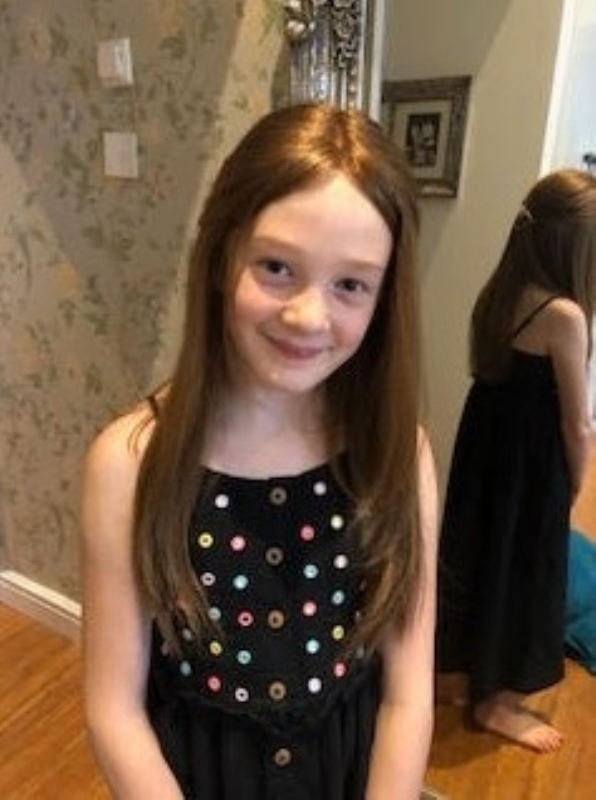 ---