Donate Hair
Thank you for thinking of donating your hair!

Don't forget to order a free LPT fundraising pack and help us turn your hair donation into a beautiful wig!

#LetItGrow
Step-by-Step Guide
Thank you for your fantastic donation. To ensure we can use your valuable contribution, please follow this 4-step guide.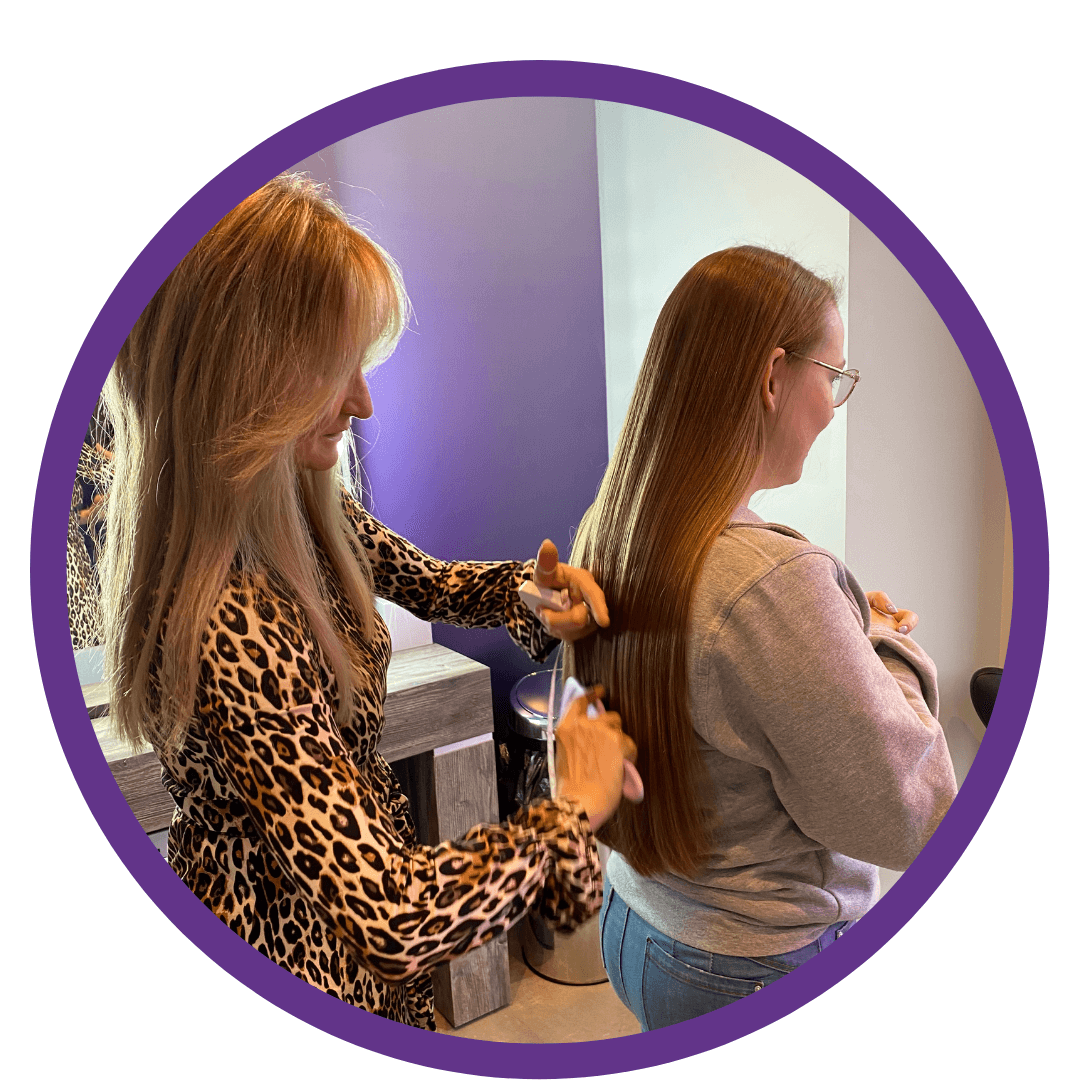 Step 1
Wash hair and dry thoroughly. If conditioner needs to be used please ensure it is thoroughly rinsed out and do not use styling products. Put hair into ponytail/s.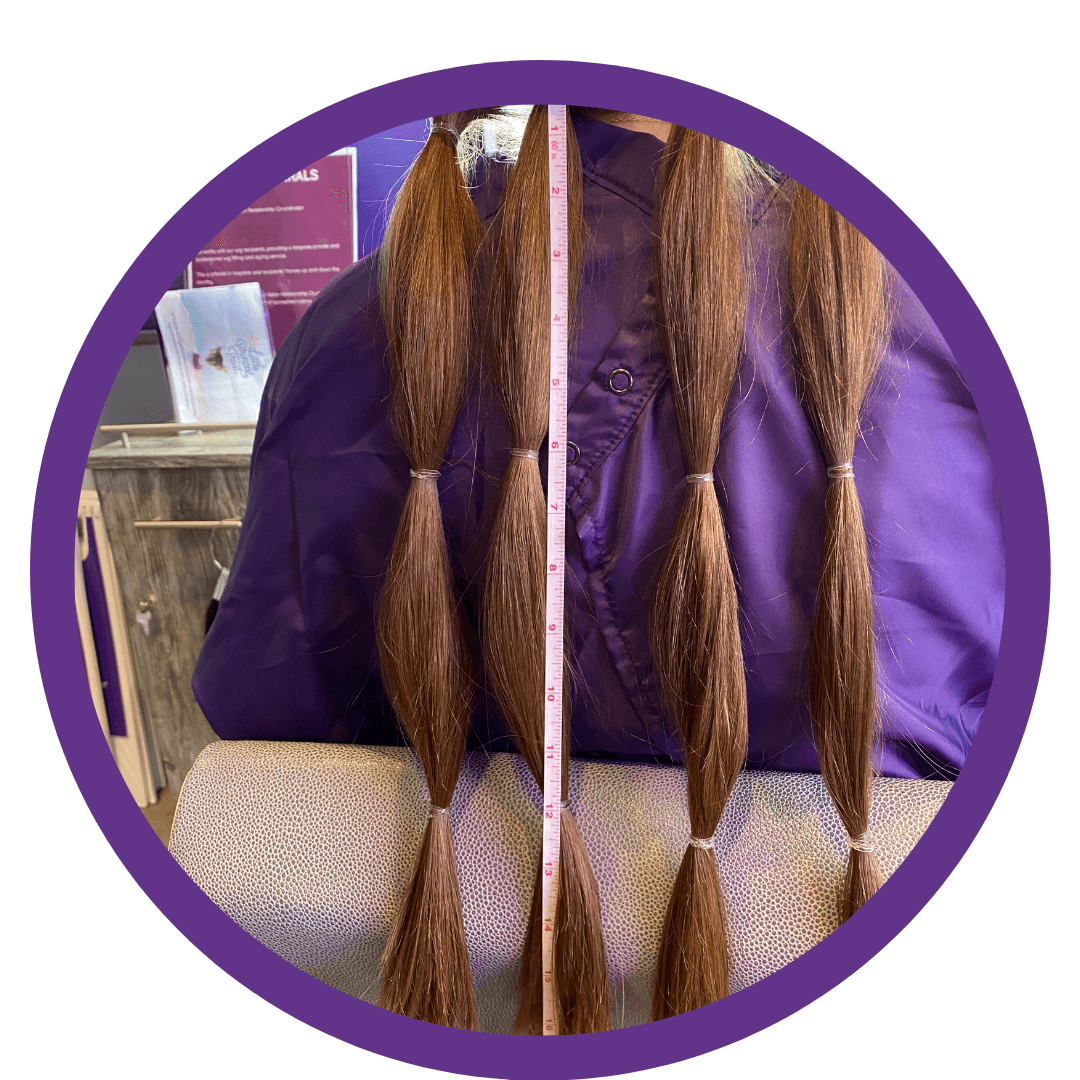 Step 2
Secure ponytails at both ends with a hair band, and one halfway down (or at regular intervals for longer hair). Ask your hairdresser to cut above the top band. We ideally need 12 inches of hair or more!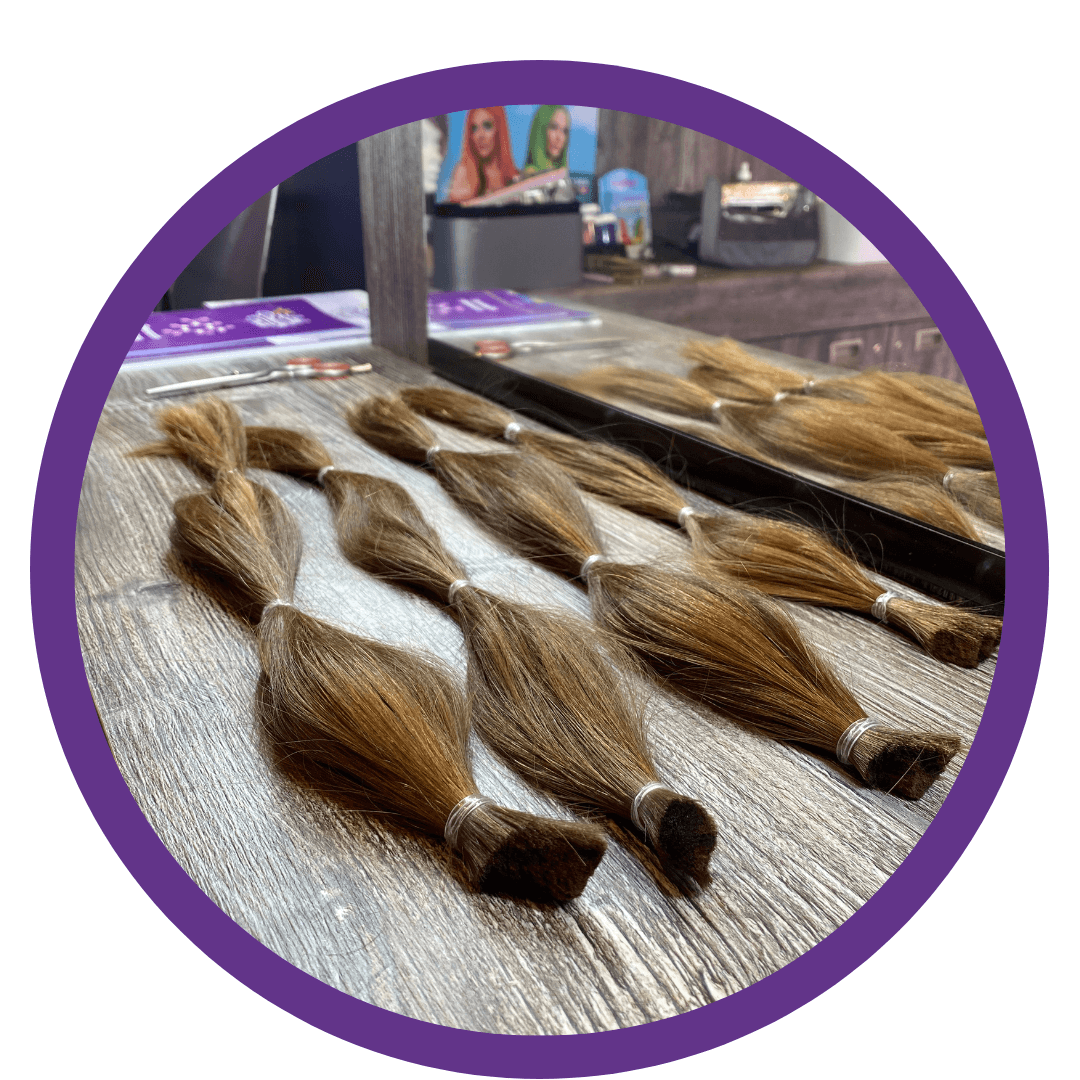 Step 3
Place cut hair inside a recyclable cardboard or heavyweight paper envelope. Include your completed Hair Donation Form. Have your envelope weighed to ensure the correct postage.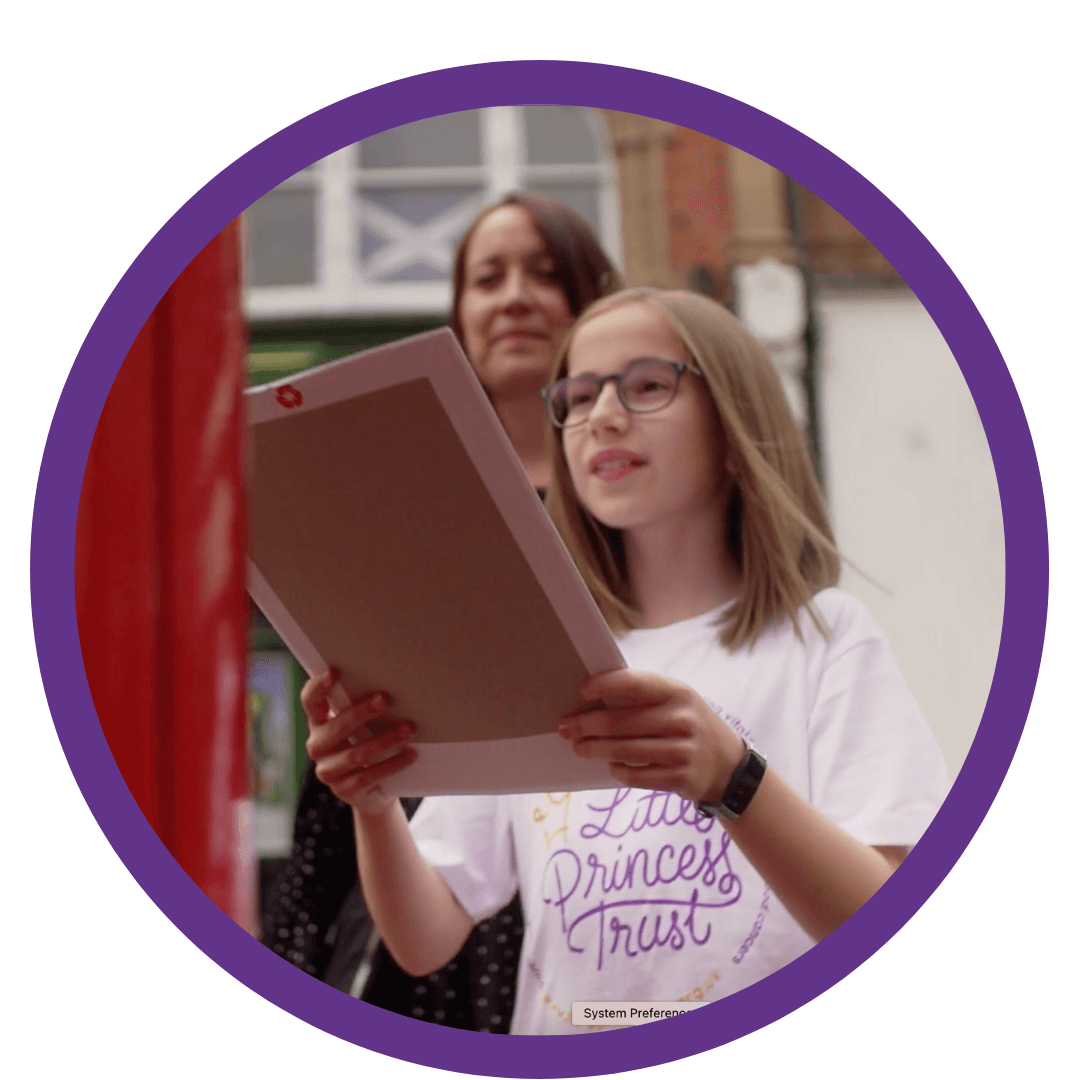 Step 4
Post the envelope to us at: The Little Princess Trust, The Hannah Tarplee Building, 22-25 Berrington Street,
Hereford. HR4 0BJ. UK.
Thinking about donating your hair to The Little Princess Trust? Thank you!
Before you reach for the scissors, please watch our Celebrity Hairdresser Ambassador, Andrew Barton's step-by-step guide to cutting the perfect hair donation for LPT.
Next, please scroll down to read our full Hair Donation guidelines.
Sharing your hair with children and young people experiencing the devastating effects of hair loss is an incredible thing to do. By watching this film and following our guidelines, you are helping us achieve our objectives of providing the highest quality, real-hair wigs. Don't forget - we need financial donations to help us cover the costs of providing and fitting our wigs - every penny that you raise really does make a difference to the lives of our young wig recipients.
Hair we can use
All hair donated to us must be in excellent condition

Our greatest need is for hair donations that are 16" (41cm) or longer

We encourage all of our growers to keep growing until at least 12" (30cm)

Clean, dry hair, from any gender and ethnicity (please do not send us wet hair - it will not dry properly and is not usable)

Great condition (no split ends) and of any natural colour

Straight, wavy or curly. Curly hair must meet length requirements while measured in its natural curly form.

Permanently dyed;* bleached/highlighted hair (*if dye is of a natural colour and overall condition of hair is good)

Ponytail/s cut a maximum of five years ago, if preserved and in good condition.

Find out more, here.

We accept hair from within and outside the UK. For more information on overseas donations,

click here
Sorry, we cannot use hair that is…
Less than 7"/17cm long

Dyed an unnatural colour (for example blue or purple)

Hair that has been dyed using semi-permanent dye

Henna-dyed hair

Dreadlocks cannot be used in our wigs. Part of the preparation to blend hair donations together involves combining individual strands of hair. All hair must be able to be combed to separate these individual hairs

Hair extensions

. Find out more


Don't despair if you can't donate your hair!

Click here

to discover other ways that you can support LPT!

Completely grey hair (we use donations that contain a small amount of grey hairs as these can be removed)

Wet or damp hair
Cutting & donating your hair
Wash and DRY your hair (we cannot accept wet hair - it does not dry in the post and will not be suitable if you have dried it after cutting on a radiator or other heat source)

Do not use conditioner or styling products

Put your dry hair into a ponytail/s

ecure at both ends with a hair band, and one halfway down

Ask your hairdresser to cut above the top band

Put the cut ponytail/s into a cardboard or heavyweight paper envelope

Include your completed

Hair Donation Form
Post to us at:
The Little Princess Trust
The Hannah Tarplee Building
22-25 Berrington Street
Hereford
HR4 0BJ
UK
Please have your parcel weighed to make sure you purchase the right postage.

Include your email address, clearly written, using this

Hair Donation Form,

so that we can email you a certificate of thanks
Important information
We cannot provide photographs of the child receiving a wig

We cannot provide pictures of a wig made from your hair

Just having your long hair cut is great; you don't have to go for the whole shave

Please think very carefully before having your hair cut, to be certain you want to go ahead

If you're under 16, you must obtain permission from your parent/guardian before the haircut

The final decision as to whether or not your hair will be used is made by our wig makers
Hair Donation Guide
To ensure we can use your valuable hair donation, please download and follow these guidelines.
Hair Donation Form
Please complete the form on the left and print out your Hair Donation Form or click below to download a blank form to hand write. Then include your completed form with your hair donation.
The hair journey is a special one and involves some truly incredible people along the way – as well as a wonderful mix of selflessness and skill.
We have created a short film that will hopefully provide the answers to your questions and shine a light on how we turn your hair into a beautiful wig.
So settle down and see how hair donors, hairdressers, volunteers, wig knotters and wig fitters all play their part in helping us provide real hair wigs, free of charge, to children and young people.
There are lots of ways to process your fundraising for us but we think the easiest by far is to set up an online Just Giving page.
Just Giving makes it super simple for you to spread the word about your awesome fundraising efforts, via email and across your social media networks, which then makes it easy-peasy for your friends, family and colleagues to get behind you, helping you to smash your fundraising goals!
After your fundraising has ended, Just Giving will transfer the money directly into our account, so we can crack on with providing our beautiful wigs, free of charge, to the young people who need them, and funding vital research into childhood cancers.
Watch this video guide which tells you how to set-up your page, then click here to get started!
Keep In Touch
We love to keep in touch with our supporters! Be the first to hear our news and find out how you can continue to support us.